Hi-Optel exhibited 100G QSFP28 ZR4, ER4, LR4 CWDM4 and SR4, 40G QSFP+ LR4, PSM4, CWDM4 and SR4, 25G SFP28 ER, LR, SR and CWDM, 10G SFP+ ZR, ER, LR, SR, CWDM and DWDM products.
Although still effected by covid-19, the exhibition attracted customers from many countries in Europe, most of them had great confidence in the future optical communication industry, and believed that the market would grow fast very soon.
ECOC is the largest conference on optical communications in Europe, and one of the most prestigious and long-standing events in this field worldwide. It is the first time for Hi-Optel to exhibit products at ECOC, during the past few years, Hi-Opel has been joining it as a visitor and met customers at ECOC site.
As a 22 years-history company, Hi-Optel has lots of customer from Europe and is always expanding the market there. Participating as an exhibitor is a great chance to show the full series product and company's capability, also it is a great opportunity to meet the new customers.
Hi-optel technology was founded in 1999, a leading of transceivers and components for optical communication. Now it is a global company with headquarter in Shenzhen China, global manufacturer center in Dongguan, R&D center in Beijing and overseas manufacturer and sales center in Johor Malaysia. It has more than 12000m2 production workshops and more than 500 stuffs, company focuses on optical transceivers and optical components R&D, manufacturing and sales. provides full series products covering data rate from 155Mb/s to 400Gb/s, including QSFP-DD, QSFP56, QSFP28, QSFP10, SFP+, SFP etc. customers include telecommunication company, data center, government entities, networking service provider and transportation hubs. Products enter into more than 80 countries all over the world with great reputation. All the products comply with RoHs, CE, TUV and FCC certification.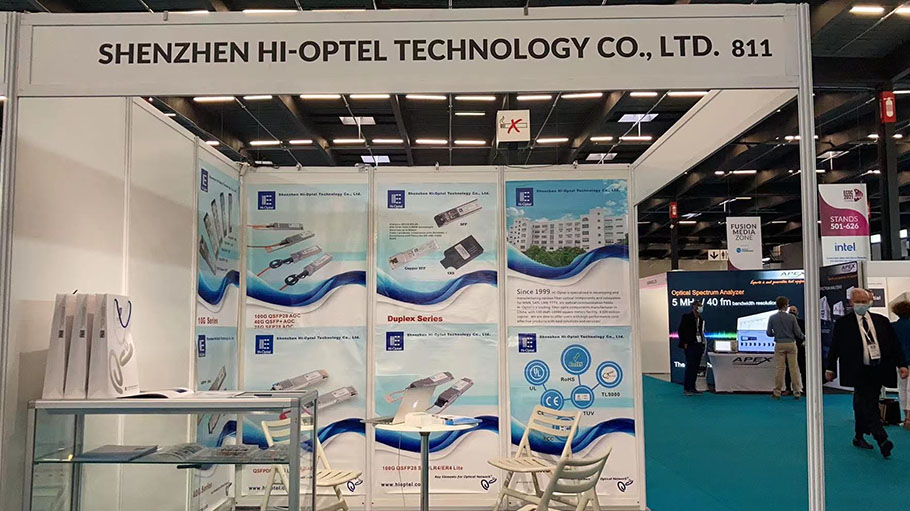 ---
Post time: Sep-16-2021